Director's Notes:
"We jokingly called this the sexophone chapter, since it depicted the moment of physical union between Jameson and Lucha, and was scored by Andrew McIntosh for a saxophone quartet.
"The scene had three parts: Lucha and Jameson's foreplay, with one saxophonist in the car, with clothes starting to come off; the saxophonist leads the audience to Peter Shire's sculpture at Angel's Point, with its expansive views of Los Angeles, and where three other saxophonists waited to play climactic harmonies; and finally a different saxophonist lead the audience back into the car, where the post-coital Jameson and Lucha sang a beautiful coda: 'The end, never the end, never the end, never the…'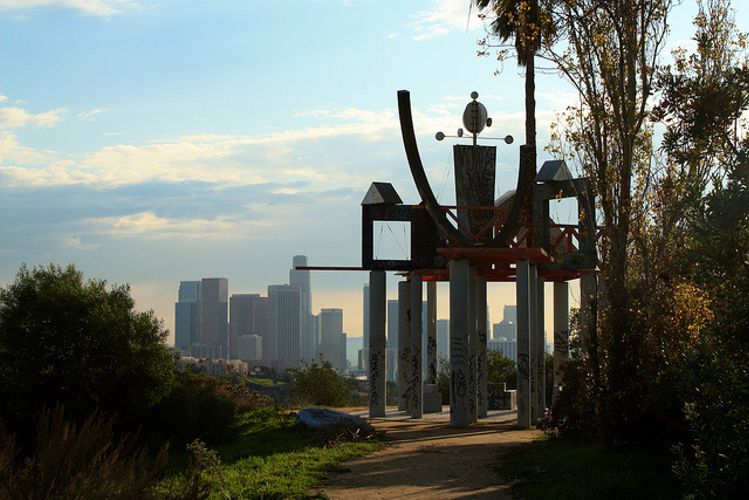 The Frank Glass and Grace E. Simons Memorial
The sculpture at Angel's Point is by Echo Park artist Peter Shire. The sculpture memorializes Glass' and Simons' activism to keep the neighborhood from being overdeveloped. The underlying message draws awareness to the negative effects of industrialism and represents Shire's own perception of Los Angeles, including its physical and social constructions.
Andrew decided to score this duet for two women, a really beautiful nod to operatic tradition. As luck would have it, Chapter 11 – when the couple were most deeply in love –also has Jameson played by a woman. Now I regret that we didn't have at least one male Lucha!